It's not just the jacket. There's Joi and Luv too…
Yes, there are lots of ways to capture the new BR, particularly from a home-wear and footwear p.o.v. Propsummit is the place to be, as ever, on a lazy Sunday morning. Your daily grind and grungy glamour interlinked…
Joe K's boots can be bought here.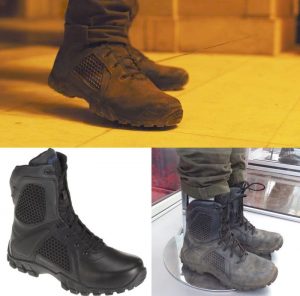 While the future of bento boxes is now – buy them here.
Aleksandra Vajd & Markéta Othová: What Is Life? – Street Level Photoworks
"This exhibition presents current work by two eminent figures in Central and East European photography, Markéta Othová (1968, Prague) and Aleksandra Vajd  (1971, Maribor, Slovenia).
Othová is known, above all, for her series of large-format photographs, whose meaning is predominantly derived from the formal and cultural-historical quality of the captured objects, such as architecture or applied arts. Vajd has recently focused on reductive photographic work, which explores the limits of the medium, with particular emphasis on its materiality.
For Street Level Photoworks, they have prepared an exhibition in which their means of expression complement each other. While Markéta Othová interprets photography as a transparent medium which confronts the viewer with technical quality, texture and the reality of the world, Aleksandra Vajd emphasises the material quality of the same photographs. It is exactly these contrasting approaches which allow the viewer to see the photographic medium in its fundamental ambivalence.
… while over the road it was like stepping back to 2004, to experience Sue's incredible delivery of heart-jerking banalities. In a good way I mean. And Luke Fowler made a film of it.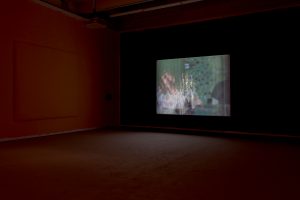 Over at the Modern, exhausted 1920s whores of standard lamps slumped in 2001…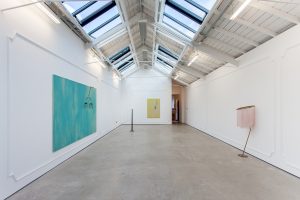 "We are delighted to present a selection of Halperin's new project Geologic Intimacy (Yu No Hana) in Glasgow, after being previously shown in Fujiya Gallery Hanayamomo, Kyushu, Japan; Peacock Visual Arts, Aberdeen, Scotland and The Royal Scottish Academy, Edinburgh, Scotland.
The project is curated by Naoko Mabon and developed over a two-year period between the Japanese island of Kyushu and Scotland.
The exhibition features new geothermal sculptures formed over the course of a year, in the Kannawa hot springs of Beppu, alongside a geothermal sculpture formed in Iceland and new works on paper.
This new series of prints was developed with Peacock's Master Printmaker, Michael Waight, utilising Yame Washi paper – the oldest Japanese handmade paper in Kyushu, in combination with hot spring minerals collected by Halperin in Beppu. A selection of Scottish soil was generously donated to the project and used to create ink, including soil sourced from Slighhouses Farm where James Hutton, the 'Father of Modern Geology', farmed and began to formulate radical ideas about the age of the earth and deep geologic time. The materials used to create the works on paper reflect the unique process used to form the geothermal sculptures in Beppu, continuing the narrative of exchange between the locations intrinsic to this project."
Just caught the last of Sara's show at the v. New Yorky new Mary Mary space. Thank you Hannah.
"This exhibition brings together a group of four wall based relief sculptures, Barker's most elaborate and monumental in the series of tray 'trench-works' she has been producing for a number of years. Blurring the lines between painting, drawing and sculpture, the works sit between image and three dimension, like hybrid etching plates for collecting colour and reference or a 'finds tray' from an archeological dig for organising and grouping.
The works behave like portals looking out to an ancient landscape – it's crafting and cultivation, where the brazed metalwork itself appears industrial and machine-like, and imagery, pattern and colour act as signifiers of people and place. In Barker's work there is a drama in light and dark, reflection and fluidity through her use of materials, with the observation of line, texture and colour of landscape, evolved from her interest in the Modernist linkage to landscape in literature.
The work here also shows the influence of Japanese ink paintings and print, where strong black borders outline images of the exterior world and motifs. So too does it look to the Medieval woodcuts and the illustrations of William Blake, with images that relate to hieroglyphics or script. In this sense there is a looking back to a traditional past, to the nature of hand-work, crafting and making, and a connection to a modern future.
In each of the four works, pattern and line acts as code, spelling out something half materialised. Appearing in part like illustrative plates, fresco, tarot cards or flags, each offers a distorted journey, our view of the abstract and figurative blurred. As a result, in their use of fragmented imagery and complexly constructed layers and mark making, the work feels coded and encrypted with no set narrative or straight read."
The excuse was UoC Institute of the Arts education of the minds of others, the host was a possibly frazzled Will Cooper. Thank you to an exhausted GoMA for a terrifying, hilarious yet ultimately edifying insight into curatorial life.
Starting from the top – hit it!
Polygraphs is a group exhibition, centred around Abstract by Hito Steyerl, which explores truth, fiction and evidence in a complicated world.  Artists are often witness to a changing global environment and their role within that is to document, ask questions and create layers of meaning to engage audiences with current international discourses.
Stephen Sutcliffe: Work from the Collection is a solo exhibition by the Glasgow-based artist Stephen Sutcliffe. Glasgow Museums recently purchased five works by Sutcliffe for the City's collection and this is the first time the films, photographs and wall drawings will be exhibited in GoMA. We are delighted that Sutcliffe has lent us two further works to mark his first solo show at the gallery, which follows major commissions for the Manchester Art Festival and Edinburgh Art Festival this year.
Sutcliffe's work draws upon an extensive personal archive of broadcast material and printed ephemera that he has collected over a number of years. He is interested in the use of the archive and his collection also includes the New Yorker, where he takes inspiration from the cartoons of Saul Steinberg, amongst others, for his wall drawings and photographs.
In his films recordings from television, cinema and radio are edited together to make poetic new works that focus on anxiety, self-doubt and the creative process. His careful editing of sound and image creates an awkwardness or interruption, which is often humorous at first glance, but can become quite dark and satirical, revealing an interest in the subversion of dominant narratives about communication, power and class.
Despair (2009), Plum (2012), Come to the Edge (2003), No (After Steinberg) (2011) and Untitled Wall Drawing Selected Errors (2011) were purchased for Glasgow Museums using the Contemporary Art Fund with assistance from the National Fund for Acquisitions (NFA) and the Art Fund​.
TASTE! is an exhibition of artworks from Glasgow Museums' collection displayed alongside material from our archive, exploring how collections are built, artworks are commissioned, and exhibitions are organised. By hanging artwork and archive together, TASTE! suggests that object and idea are of equal importance and offers the exhibition as a space to enjoy, question and discuss the value of art.
Few things can cause controversy in the way that contemporary art can. From unmade beds to piles of bricks, the objects, processes and concepts behind modern and contemporary art are undoubtedly challenging. Since opening its doors in 1996, GoMA has, like the work its shown, sometimes been a controversial place. Once notorious for not including artists emerging from Glasgow in the early to mid-90s in favour of popular, figurative artworks, much of what has been shown here has divided opinion.  Now GoMA can pride itself on being a forward thinking, progressive collecting institution with one of the strongest and most diverse collections of Contemporary Art in the UK, holding a wide range of works from cutting edge performance art to internationally significant photography and video.
This exhibition will, for the first time, place works together to create a snapshot of our collecting history, with some never before seen archive material expanding on GoMA's rich history.
And finally…
Turns out the exhibition really was cancelled:  Marlie Mul: This exhibition is cancelled 
"This would have been Marlie Mul's first exhibition in Scotland, however after careful consideration the artist has cancelled the exhibition.
There is no exhibition.
Except for large billboard posters that advertised the exhibition's cancellation, the gallery is empty.
While there is no exhibition, visitors are welcome to continue to use the gallery space.
Proposals for using Gallery 1 for your own activities are now closed as the calendar of events is full. Many thanks for the overwhelming response to using the gallery while Marlie Mul's exhibition is cancelled.
The exhibition is cancelled is supported by The Henry Moore Foundation and The Mondriaan Fund. "