Aleksandra Vajd & Markéta Othová: What Is Life?
Aleksandra Vajd & Markéta Othová: What Is Life? – Street Level Photoworks
"This exhibition presents current work by two eminent figures in Central and East European photography, Markéta Othová (1968, Prague) and Aleksandra Vajd (1971, Maribor, Slovenia).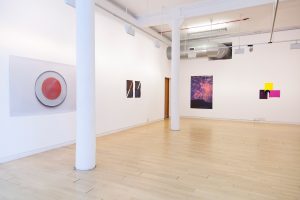 Othová is known, above all, for her series of large-format photographs, whose meaning is predominantly derived from the formal and cultural-historical quality of the captured objects, such as architecture or applied arts. Vajd has recently focused on reductive photographic work, which explores the limits of the medium, with particular emphasis on its materiality.
For Street Level Photoworks, they have prepared an exhibition in which their means of expression complement each other. While Markéta Othová interprets photography as a transparent medium which confronts the viewer with technical quality, texture and the reality of the world, Aleksandra Vajd emphasises the material quality of the same photographs. It is exactly these contrasting approaches which allow the viewer to see the photographic medium in its fundamental ambivalence.