The Driver's Seat – National Theatre of Scotland
This was such a good production, I rushed out and bought the novel. It's going to be a Muriel Spark summer for me.
From the Tramway's website…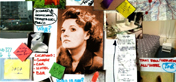 Adapted for the stage for the first time, The Driver's Seat is one of renowned novelist Muriel Spark's most gripping and disturbing books. At the centre of this taut, darkly comic thriller is Lise, an enigmatic young woman who is compelled to travel alone to an unnamed European city. However, it is initially unclear whether she is running away from, or towards something. Desperate to leave her mark on a world that is becoming increasingly alien to her, she acquires a series of brightly coloured, outlandish outfits and assumes an equally bizarre set of different personas, trying them out on the curious people she encounters.  As time passes, it seems that what she is searching for continues to elude her. All the while, in a police incident room, the hunt is on for a killer.  As the tension builds and the twin narratives intertwine, The Driver's Seat asks if we can ever escape who we are, whether we are ever truly in control of our lives and, through Lise's journey, where that road might lead if we were. The production is designed by Ana Inés Jabares Pita, overall winner of the 2013 Linbury Prize, the UK's most prestigious award for stage design, offering graduating designers the unique opportunity to work with some of the country's leading theatre, opera and dance companies.