Art-o-rama Marseille Aug. 25-28 – The Immaterial Salon 2022 is live…
That never-ending, ever-evolving and increasingly ouroborosian www.rabbiticottontoothcottonrabbit.com lies behind a great new piece of writing by curator Francesca Zappia. It's part of The Immaterial Salon, one digital offshoot of Art-o-rama in Marseille which launched yesterday. 
Read The Hypnotised Machine here. The Immaterial Salon is to be found here. Blurb below…
Salut!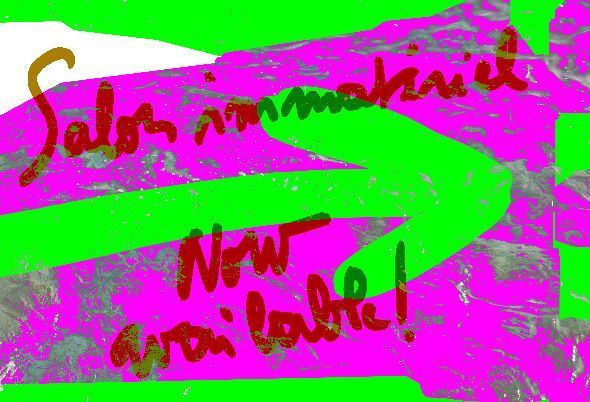 Art-o-rama Marseille August 25 – 28 2022 Read Online Lire en français

Launch of the Immaterial Salon 2022! Fully accessible from today August 19 to October 2, 2022 The Immaterial Salon is an online platform dedicated to artworks adapted to digital format. It is a virtual extension of the physical salon, presenting works that can be experienced on any digital medium, as well as in a physical space. Immaterial Salon With Bombon, Barcelona — Rosa Tharrats Foku, Tallinn — Laura Kuusk Gæp, Bucarest — Pavel Brăila Ginny on Frederick, London — Emily Pope OGAMI PRESS, Madrid — Muriel Moreau salle principale, Paris — Elsa Werth SISSI club, Marseille — Aurilian Zeller van Almsick, Vienna — Natalia Domínguez Rangel The Immaterial Salon shows this year a selection edited by the curators and researchersArlène Berceliot Courtin, Karin Schlageter, and Francesca Zappia. Publications are programed all along the Immaterial Salon.

Discover Francesca Zappia's The Hypnotised Machine about Jane Topping and the SIX YEARS (CEA – French association of exhibition curators) broadcast TV online What do curators care for? launching this new edition of our online platform! Look forward to seeing you onAugust 25for the opening of Art-o-rama in Marseille! Art-o-rama Marseille, International fair of contemporary art, Salon International d"art contemporain.

Friche la Belle de Mai, 41 rue Jobin, 13003 Marseille, France. T. +33 (0)4 95 04 95 36. M. contact@art-o-rama.fr Art-o-rama is produced by Fræme, association loi 1901 residing at la Friche la Belle de Mai.
Graphic Design : Huz & Bosshard Press Relations : David Ulrichs Producer, co-producer
Fræme, Friche la Belle de Mai Public partners
Ville de Marseille, Conseil Départemental des Bouches-du-Rhône, Région Sud – Provence-Alpes-Côte d'Azur,
Ministère de la Culture – Direction régionale des affaires culturelles Official partners
Phillips, Fondation d"entreprise Pernod Ricard Patrons Circle
Ma Terrasse à Marseille, Sud Plaisance, Alpine Marseille, Château Sainte Roseline, Les Théâtres, Cote Magazine Official suppliers Golden Tulip Marseille Euromed, Caparol, Les Grandes Tables, Rochebobois Cultural partnersCCN Ballet National de Marseille, Marseille Design Méditerranée, CEA Association française des commissaires d'exposition, PAC, Réseau Plein Sud, Documents d'artistes, Institut Culturel Lituanien Media partners
The Art Newspaper France
Mousse Magazine, Cote Magazine, Revue 02, Arts of the Working Class, Klima, Artfacts x Limna