SALT 1-11 Sept. 2022 – Programme now live
Here's the latest on SALT, ART WALK PORTY's 2022 programme in which The Man Who Fell to Millom plays a wee part. All from Art Walk Project's newsletter…
ART WALK PORTY 2022 Programme Now Launched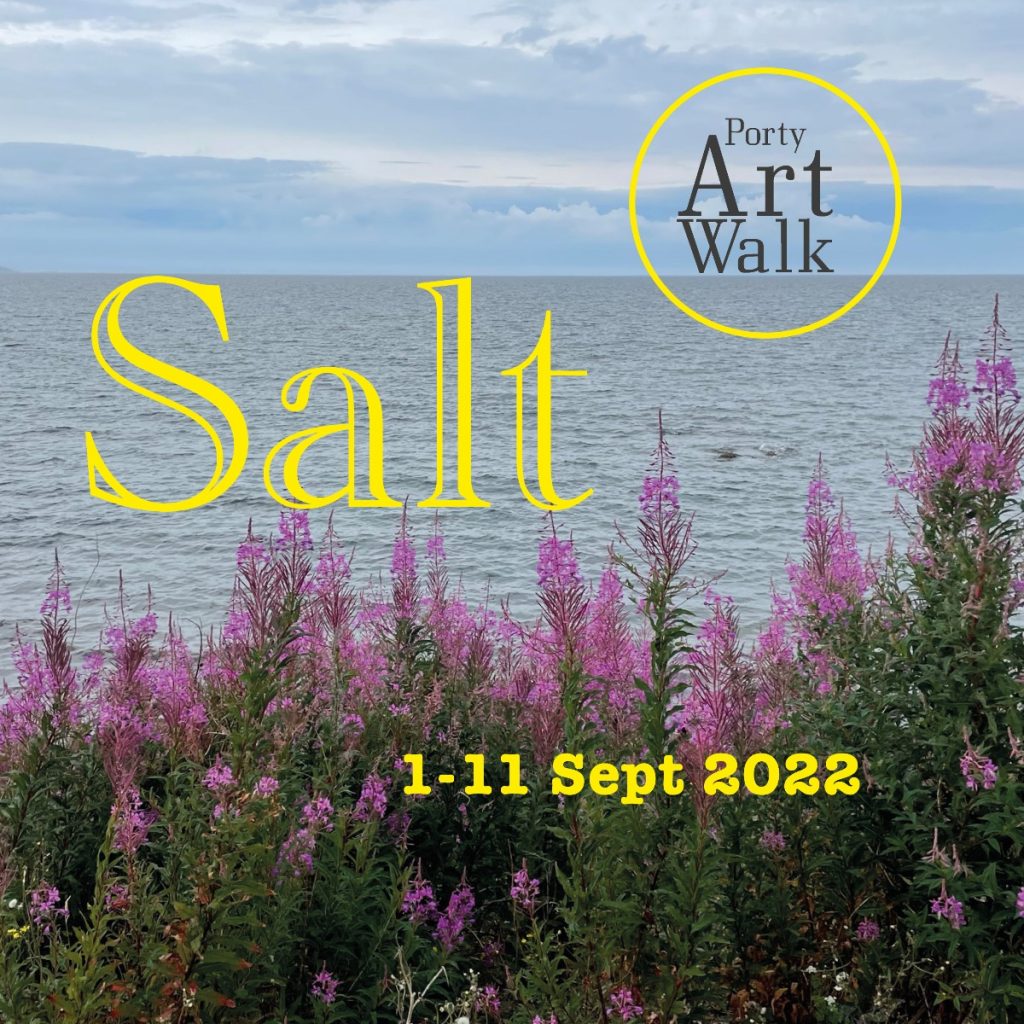 Our SALT programme of exhibitions, installations, participatory art, live art, open studios, art in shops, film, walks & talks is now live at our website.
SALT represents a new programme forging an interdisciplinary approach of inquiry that connects Edinburgh's coastal ecologies with the global climate crisis, interweaving art, science and ecology.
More than 60 artists take part across the full programme which includes artist projects from our SALT residency artists, commissions & events, publication launches, open studio weekends, art in local shops, and more.View Programme
Join us for many different conversations, walks, workshops, and talks that are taking place across the SALT programme. Many of the events are drop-in but some do require booking so please check the website for individual information: View full diary here
View all bookable events via Eventbrite [Rosy Naylor (curator) with artist Tonya McMullan – photo: Ellie J McMaster]
Weds 31 August 7-9pm
Art Walk Porty Hub, 189 Portobello High Street
Edinburgh EH15 1EAWe look forward to welcoming you to our opening preview celebrating the start of this year's festival, alongside our central SALT Exhibition. Food residency artist Mahala Le May will be creating salt infused snacks exploring filtered seawater. The preview is sponsored by Bellfield Brewery with gluten free & vegan beer available to enjoy.
Our printed programmes are now available detailing all the artist projects and featuring articles from writer Tom Jeffreys; Professor of Biogeomorphology, Larissa Naylor; and Art/Science Lab Manager at Ascus, Keira Tucker. Copies are available from the Art Walk Hub, 189 Portobello High Street (Open Thu-Sat until 27 August, Thu-Sun 1-11 September, 11am-5pm) or use the links below to access downloads. Programmes are also in the process of being distributed across city centre cultural locations. Download Programme pdfs:
Curated Programme
Art Houses & CafesOr request to receive copies by post
View Programme:
Artist Residency Projects
Commissions & Events
Film Programme
Art Houses
Art in Shops & Cafes