Domestic Bliss – GoMA, Glasgow
Pop into Domestic Bliss up in Gallery 4 of GoMA when you are passing. Katie Bruce's exhibition makes the space seem like new. My work, based on the life of Carson McCullers and from my solo show They are the We of Me (GoMA, 2006) gets to hang out with works by Jacqueline Donachie and Jo Spence, with personal fav. Kate Davis not far off…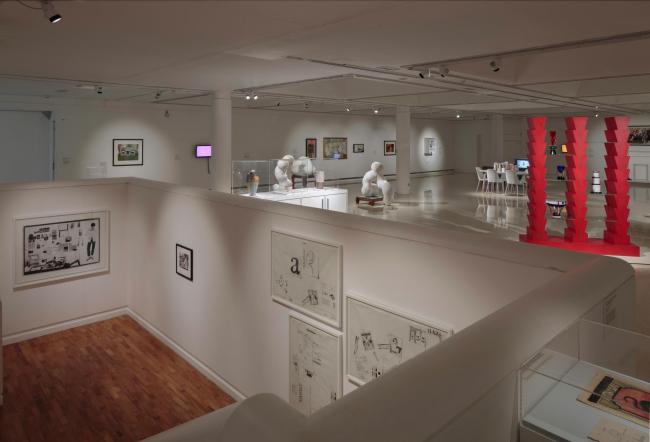 From GoMA website:
Domestic Bliss
8 March 2019 (Preview 7 March 5 – 8pm)
Domestic Bliss presents works from Glasgow Museums' collection reflecting on this building's history as a former house, Royal Exchange and civic space. Observing how artists work with fine art, design and craft practices alongside social and political changes, this show explores domestic labour and feminism, public and private space, intimate relationships and historical narratives. We live in a consumerist world where home interior, lifestyle magazines and social media present flawless examples for us to emulate in our own lives. What happens if we question what is seen as 'domestic bliss', and whose stories are hidden or revealed?
'I want to make something that lives with the eye as a beautiful piece of art, but on closer inspection, a polemic or an ideology will come out of it'. Grayson Perry

Opening up the gallery space for the first time in a number of years Domestic Blissexperiments with domestic design and traditional museum displays. Works cluster together around themes, they are curious and ask questions about their role in public collections and what histories are hidden or revealed. Included in the exhibition are portraits of intimacy, domesticity and important stories from our collection. However, within this, questions are also asked about the relationship between the artist/maker, the sitter and the audience. These include questions around gaze, authorship and exploitation of marginalised lives that are more prevalent now in our current climate of social media thus creating a discourse on class, values, intersectionality, and documentary media.
Domestic Bliss began with the curator Katie Bruce interested in the work Untitled (Yellow Foot Sofa) by Nicola L (1937 – 2018), acquired in 1990 for Glasgow Museum's collection, and thinking about the history of the building as home, exchange, library and museum. The exhibition includes works from the fine art and decorative art collections that have never been shown at GoMA before alongside new acquisitions from Anne Collier and Siân Robinson Davies with more recently-displayed works such as Growing up as Boy by Grayson Perry, Ice Cream Paperweight (Brown) by Scott Myles and Home Ornaments by Daphne Wright.
At the centre of the show is a reading table, which also functions as an event space responding to themes within the exhibition. Commissions from Camara Taylor and Mandy McIntosh include events that will begin to question the 'domestic bliss' the title of this exhibition alludes to. These and the public programme of discussions, talks and readings will inform display changes to the exhibition in the future.
Artists:
Jane Evelyn Atwood, Chris Bramble, Thomas J Clapperton, Emmanuel Cooper, Anne Collier, Kate Davis, Jacqueline Donachie, Nick Evans, Alasdair Gray, Ilana Halperin, Jessie M King, Nicola L, Oscar Marzaroli, Mandy McIntosh and the Feegie Needlers, Scott Myles, Grayson Perry, Niki de Saint Phalle, Siân Robinson Davies, Jo Spence, Ettore Sottsass, Joel Sternfeld, Camara Taylor, Jane Topping, Hanneline Visnes, Nick Waplington, Daphne Wright.
From The Skinny's Review:
For Domestic Bliss, the Gallery of Modern Art furnishes its top floor gallery full of works from Glasgow's renowned civic art collection that touch on homelife and domesticity.
In a wide format photograph from Nick Waplington across the back wall, a recent mother tilts the new baby's head as it vomits, with the frame of the photography taking in the entirety of the small living room's details, as a frank and exceptional insight into private family life.
There are also drawings of Jane Topping's own studio wall with fragments of research on the playwright Carson McCullers, particularly a period when McCullers left her husband to live in a queer commune of sorts in the 40s. They show sketches of intimate photos along with quotidian itemised lists ('cigarettes, dirty plate, war news…') and poetic annotations or quotations: 'choice', 'Plus, I crave'.
Like the photo of Jacqueline Donachie's own hectic studio wall, there's an analogy subtly drawn between the artist's desk and the build-up of things and papers familiar from well-used coffee tables or fridge doors, and the fortuitous connections and gatherings that might take place there.
Documentary photography takes on a poignant bent in the work of Jane Evelyn Wood, who provides a disarmingly intimate record of Jean Louis, a French man dying of Aids, in his final months. The photos of him passionately kissing, then shaving in the mirror are warm, close-up, inviting and vulnerable.
As well as moments of tenderness, there are the sumptuous perfume bottles designed by Niki de Sant Phalle, and the eccentrically colourful and elegantly formed vases and glasses of Ettore Sottsass.
Entering and exiting, there's what sounds like the noise of a basin of dishes in water, or the rhythmic rumble of a washing machine. It's Ilana Halperin's recording of melting ice crystals in an Icelandic lagoon. At once, the familiar everyday humdrum is made sparkling, and connected global rhythms and radical shifts.
Adam Benmakhlouf 2019
---
Domestic Bliss, at Gallery of Modern Art until 31 Dec