Per Aspera Ad Astra (1981)
My preferred translation of this Russian title is To the Stars, the Hard Ways*. Watch it with English subs here.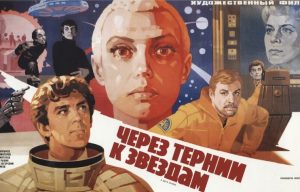 'The action of this film, *whose Latin title translates as Through the Thorns to the Stars, is based on a screenplay by cult Soviet sci-fi writer Kir Bulychev and is set in deep space and on fictional planets. A reconnaissance craft — named Pushkin in homage to Russia's greatest poet — encounters a derelict starship. Inside is a humanoid woman with inhuman abilities — teleportation, telekinesis, and so forth.
Richard Viktorov directed the original 1981 version of this film. He died soon afterwards in 1983 while shooting The Comet, another sci-fi movie. Richard's son, Nikolai Viktorov, released a new version of the film in 2015, having remastered the sound and special effects and shortened the running time by cutting several set pieces laced with Soviet ideology.'
www.russianartandculture.com/