This is interesting. Perfect for Sunday morning listening…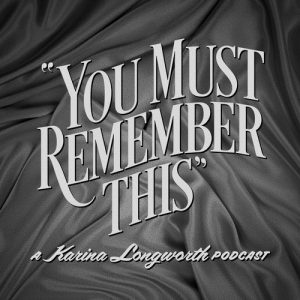 "You Must Remember This is a storytelling podcast about the secret and/or forgotten histories of Hollywood's first century. Distributed byPanoply from Slate Magazine, the podcast is the brainchild of Karina Longworth, who writes, narrates, records and edits each episode in her home. Guest stars have included actors Dana Carvey, Adam Goldberg, Steve Zissis, Noah Segan, Wiley Wiggins and Nora Zehetner, journalists Max Linsky, Mark Olsen, Anne Helen Petersen and Farran Nehme Smith, screenwritersKelly Marcel and Craig Mazin, producer Ram Bergman, the internet's own Wil Wheaton, and more.
Since launching as a passion project in April 2014,You Must Remember This has become one of the top film podcasts around, and is usually in the Top 100 of all podcasts on iTunes.
This podcast is a heavily-researched work of creative nonfiction. Every reasonable attempt is made at accuracy, but quite often when it comes to the kinds of stories we explore here, between conflicting reports, conscious and unconscious mythologizing and institutionalized spin, the truth is murky at best. That's kind of what the podcast is, ultimately, about.
Longworth began her career as a film journalist as the co-founder of the pioneering film blog Cinematical, and went on to serve as a staff critic at the Village Voice and the film editor at the LA Weekly. She has also contributed to Grantland, Slate, Vanity Fair and many other print and online publications. She is the author of books on George Lucas, Al Pacino and Meryl Streep, and she has lectured at the undergraduate and graduate level, most recently at Chapman University. She's currently working on a book about the many Hollywood loves of Howard Hughes. For more information about Karina and her work, go here."