Seen here, alongside the contents of my pockets, is the TRANSIT No.3 Zine. My contribution ps 22-33. Cover definitely red, not pink.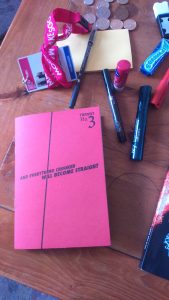 Text reads:
Image adapted from Blade Runner Annual (1982) by Jane Topping. Adapted from Blade Runner (1982 Dir. Ridley Scott) by Archie Goodwin. ©Marvel Comics International Ltd., a subsidiary of Codence Industries Corporation, GRANDREAMS LTD., London, 1982.
Enhance two twenty four to one seventy six.