Once I decided that this wasn't metaphorical and that the characters were actually living at the end of the world, the fear became almost unbearable for this idiot. I remember laughing at times, but now I'm not sure why. I'm no suds aficionado, but this pair are clearly wasted on Corrie.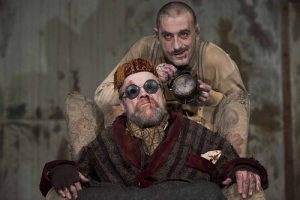 CO-PRODUCTION BETWEEN CITIZENS THEATRE AND HOME, MANCHESTER
A classic of modern theatre, Beckett's absurd and macabre play stars David Neilson and Chris Gascoyne.
Languishing between life and death, the tyrant Hamm (played by David Neilson) and his dutiful but resentful companion Clov (Chris Gascoyne) are irrevocably bound to one another.
They pass their days in a filthy, bare room, caught in a loop of futile routines. Their endless and brutal verbal jousting match is punctured only by the nostalgic reminiscing of Hamm's parents, reduced to living in rubbish bins.
Absurd and macabre, Endgame makes a grim joke of life, and finds laughter in the darkness. Dominic Hill, Artistic Director of the Citizens Theatre, brings his talent for gripping and absorbing contemporary interpretations of classic texts to Beckett's masterpiece.
From Citizens Theatre Website