Nothing compares to the first time getting shot at
Rachel Lowther
Reid Gallery
16 Jan-20 Mar 2016
Preview: Friday 15 Jan, 6-8pm
For her specially commissioned exhibition artist Rachel Lowther draws on contemporary conflicts and research she was invited to undertake into the GSA Archives and Collections' World War I holdings. How can (or even should) art respond to bodies torn apart, flesh and bone melted by white phosphorus, children tortured or bombed as they play on a beach, families dreaming of drones and letters from grieving parents?
During WWI Fra Newbery, GSA Director at the time, wrote: "The brightest colours that Art can assume at the present time, not only fail to attract attention, but like a gaily dressed woman at a funeral, mankind wonders that she show herself at all!"
Lowther has used her research to inspire a new body of work for the Reid Gallery, including sculpture, film and embroideries that explore the human impulse for fighting and violence. Lowther questions the comfortable position of making art in a world that is anything but comfortable – the exhibition's title is a quote from a British soldier serving in Afghanistan in 2010.
Lowther has made her first complete sculptures of the human figure – measured, considered and modelled in clay over weeks, and transformed in minutes with a pickaxe handle. With the help of artist and filmmaker, Anne-Marie Copestake, the attacks have been captured in short films.
Rachel Lowther's archival research and exhibition have been commissioned by The Glasgow School of Art, with support from Museums Galleries Scotland WWI Fund.
A concurrent exhibition in the Reid Ground Floor Corridor, From the service of Venus to the worship of Mars, curated by Lowther, will feature some of the material from GSA Archives & Collections WWI Holdings which the artist found during her research.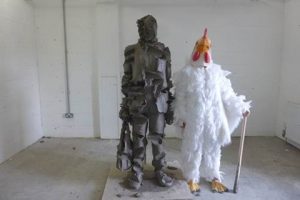 From the service of Venus to the worship of Mars
Reid Ground Floor Corridor
16 Jan – 28 Feb 2016

So commented Glasgow School of Art's Director, Francis H. Newbery, about the ability of the "Artistic temperament" to adapt to the circumstances of the First World War. The 1914-18 period saw huge changes at Glasgow School of Art as the School came to terms with human losses, wartime shortages and the question of how an art school and its personnel could best support the war effort.
This exhibition shows a selection of letters and ephemera held in the GSA's archives and used by artist Rachel Lowther in the development of new work for her exhibition Nothing compares to the first time getting shot at showing at GSA's Reid Gallery from 16 January-20 March 2016.  It showcases the variety of activities and experiences of the School's students and staff at home and abroad and reveals how the war impacted on them individually and on the School as a whole.
GSA's Archives and Collections are open to visitor by appointment. For further information see www.gsa.ac.uk/archives
Currently based in Glasgow, Rachel Lowther studied at Chelsea School of Art, London, the Staedelschule, Frankfurt, and Hunter College, NYC. She spent 14 years in NYC showing and curating exhbitions internationally, as well as assisting Jeff Koons and Matthew Barney and creating a permanent diorama for the American Museum of Natural History, New York, among other projects. She has most liked showing her work at Participant Inc, NYC, Thread Waxing Space, NYC, Momenta Art, Brooklyn, Atlanta Contemporary Art Center, Maschenmode/Guido Baudach, Berlin, The Sculpture Center, New York, The National Portrait Gallery, London, a hen house in Frankfurt and in demonstrations on the streets of Glasgow. In 2014, she created an exhibtion for Glasgow International with Kerry Stewart, Georgina Starr and Ana Genoves in the village hall, Uplawmoor, East Renfrewshire. She is one third of DEATHANDDADA (with Amalia Theodorakopoulos and Fritz Welch), a Glasgow-based artist-run alternative space that was active in Glasgow and abroad from 2010-2013.  
(From the GSA website)