Another superb talk from Fiona Jardine – she never fails. This time she spoke about the connections between photographic development, analogue and digital, and the way cosmetic companies sell us product. Plus, thank goodness someone is talking about the darkroom scene in The Omen!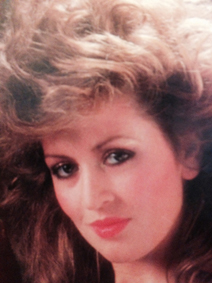 From the Tramway website:
Soft Focus
Talk, T5 Tramway
Sunday 26 July, 2pm-3.30pm
From Vaseline on the lens to Photoshop, in association with Fashion Cultures, Soft Focus examines the politics of photographic enhancements within advertising from the 1950s to the present day.
Set within The Persistence of Type exhibition at Tramway, Soft Focus responds to the influence of the photographic image and type through primary investigation into local graphic design history – from Post Office records, private archives to collected magazines and micro filmed newspaper.
Focusing on a range of examples, from Tennant's Lager lovelies to the figure of the airhostess within British Caledonian Airways promotional material, Fiona Jardine discusses the development of photographic manipulation with Mairi MacKenzie, highlighting key campaigns, which have informed the Persistence of Type exhibition.