Ripples on the Pond – opens Thursday 30th April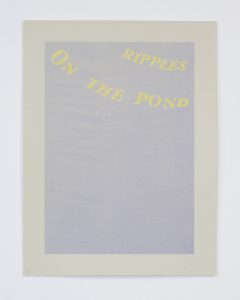 Credit: January 1987, from 21 Spare Ribs (2012) Helen De Main, courtesy and © the artist
Invitation to Exhibition Opening
Ripples on the Pond
Gallery 4, GoMA, Royal Exchange Square, Glasgow.
Thursday 30 April, 5.30 -7.30pm
Exhibition continues until Spring 2016
Refreshments
The Gallery of Modern Art (GoMA) warmly invites you to opening of Ripples on the Pond, an exhibition which has at its core works from the Glasgow Museums' Collection. It takes as the starting point recent acquisitions from the Glasgow Women's Library 21 Revolutions series, relating them to other works in the collection and sparking questions about gender, themes and media choice in relation to women's practice and visibility.
Ripples on the Pond is also curated as a conversation between the works in the collection on paper and moving image and the invitation to Modern Edinburgh Film School and LUX Scotland to programme artists screenings within and beyond the gallery space. Visitors to the exhibition are invited to be part of that conversation and the exhibition can be seen as an essay that is to be read, re-read, critiqued and rethought. The programme by Modern Edinburgh Film School can be seen as sister essay: responding to, commenting on, critiquing the holdings and re-imagining a collection through conversations with other works.
Themes of play, landscape, feminism, place and visibility emerge and through the exhibition and ongoing conversations we are learning more about the works in the collection and understanding the genealogy of practice, both locally and internationally, of women artists living and working in Glasgow.
Artists:
Sam Ainsley, Claire Barclay, Georgina Beier, Vanessa Bell, Kate Davis, Helen de Main, Jacqueline Donachie, Joan Eardley, Karen Guthrie, Ilana Halperin, Barbara Hepworth, Louise Hopkins, Roni Horn, Emily Jacir, Bet Low, Patricia MacDonald, Mari Mahr, Shauna McMullan, Jacki Parry, Ciara Phillips, Nina Pope, Carol Rhodes, Zineb Sedira, Lucy Skaer, Jo Spence, Corin Sworn, Amanda Thomson, Jane Topping, Alison Watt
Moving Image programme in the projection space (confirmed to date)
Corin Sworn, Anne Colvin, Sarah Forrest, Anne-Marie Copestake
Modern Edinburgh Film School
Anne Colvin, Sarah Forrest, Anne-Marie Copestake, Rosalind Nashashibi, Allison Gibbs, Karen Cunningham, Mairi Lafferty, Annabel Nicolson, Lauren Gault, and Catherine Street
Ripples on the Pond has been developed with Affiliate: Thinking Collections (a University of Glasgow programme funded by Creative Scotland) and Modern Edinburgh Film School, along with LUX Scotland and Glasgow Women's Library.
GoMA would like to thank Alex Hetherington, Tina Fiske, Isla Leaver-Yap, Helen de Main, Wendy Turner, Adele Patrick, Dr Sarah Neely and the artists.