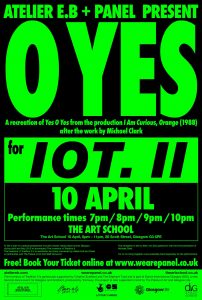 This – 6 Minutes – and perfectly crafted.
Led by Ellen van Schuylenburch, for The Inventors of Tradition II, Panel and Atelier E.B recreate a dance from Michael Clark's I am Curious, Orange as a series of four short performances within the iconic and atmospheric space of The Assembly Hall at The Art School, Glasgow.
I am Curious, Orange, premiered in Amsterdam as a part of The Holland Festival in 1988 and marked the first time that The Fall played live with Michael Clark Company (with score and lyrics especially composed). Within YES O YES, the dance recreated by O YES, Clark explores Glasgow's specific social and cultural tensions through an abstracted Rangers versus Celtic football match.
Honouring the history of the piece and its connections to Glasgow, four recreated performances revive this seminal collaboration, bringing together student dancers, independent dancers and a live ensemble band created by Tut Vu Vu.
DJ's, programmed by Atelier E.B and Panel, play downstairs at the Vic from 6pm-11pm.
O YES is curated by Atelier E.B and Panel for The Inventors of Tradition II and is part of Dance International Glasgow
The recreation is led by Ellen van Schuylenburch with the kind permission of Michael Clark