Retracing some steps this morning, I remembered a fantastic show of Christina Ramberg's work at 42 Carlton Place – an occasional gallery run by Carol Rhodes & Merlin James. Perfectly augmented by a conversation between Nadia Hebson & Sophie Macpherson.
Admire the lush colours and tense poses of Ramberg's bodies below and read more about the artist here.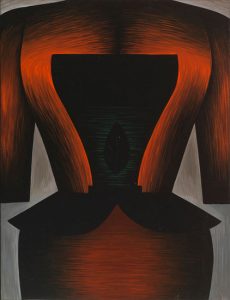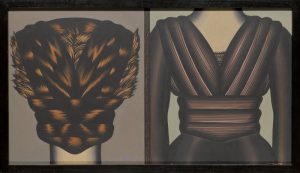 'Christina Ramberg (1946-1995) was a central figure in the Chicago Imagist movement, and in first-wave feminist art in the USA. Beyond those contexts her unique work has emerged as increasingly compelling on its own terms, and highly relevant to artists now.
This exhibition – in association with Corbett vs. Dempsey, Chicago – will be the first showing of Ramberg in the UK since her substantial inclusion in the exhibition Who Chicago, curated by Victor Musgrave thirty-five years ago (touring to Glasgow's Third Eye Centre in 1980).
Ramberg is best known for imagery of bound, fetishised hands and bodies, and for schematised torsos that can shade into 'pure' diagrammatic abstraction. She also assembled many 'found' photographs and scrap-book items, made quilts, prints and artist's books, and kept extensive written notes. 42 Carlton Place will show around twenty small works, in oil, acrylic, ink, pencil and print media.' – From 42 Carlton Place website.