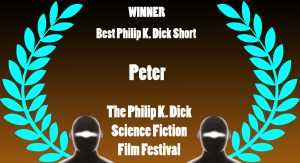 "The best Blade Runner sequel is Peter by Jane Topping." Matt M. Lloyd, Glasgow Short Film Festival, 2017.
Peter (Dir. Jane Topping, 2014) re-frames what is considered a classic of dystopian cinema (Blade Runner, 1982, dir. Ridley Scott) with the intention of positioning the artist within the text and so implying that such radical gestures are not only warranted and necessary but also implicit in the contemporary viewer's experience of watching film.
Peter manipulates found footage and narrative voice to reveal difficulties of viewer identification when watching Blade Runner. Peter makes use of wholesale appropriation of 'facts', both visual and textual, personal and public, in order to create a new reality around the film. The use of personal biography and the trope of the unreliable narrator are key elements in the discussion of the elusive nature of truth at the core of Peter.
I made the first version of Peter (30 mins) for the group show The Luck of Edenhall, curated by Linda Fitzgerald, The Old Firestation, Carlisle, 2014.
Peter won Best Philip K. Dick Short at the Philip K. Dick Science Fiction Film Festival, New York, 2017